Shea - They call it "women's gold."
When crushed and processed, the nuts of the shea tree yield a vegetable fat known as shea butter. It has long been a common ingredient in local foods and soap, but its qualities also make it a valuable export, for use in the manufacture of chocolate and cosmetics. The tree grows throughout the semi-arid Sahel region of West Africa, but the largest concentration is in Burkina Faso.
Beauty Products, Gift Sets, and Moisturizers Made from Shea Nuts
Showing 40–42 of 45 results
Shea butter is vastly used by:
Premium Cosmetic manufacturers to make bath soaps, shampoos, hair conditioners, bath oils, massage products, body creams and lotions, lip balm and many skin products
Cosmetic producers and food ingredient distributors
Pharmaceutical laboratories to make many pharmaceutical products
Food and confectionery manufacturers making chocolates, margarine and bakeries.
Made in the Shea Products come unscented or in your choice of a variety of scents.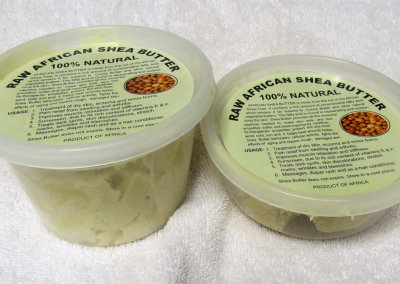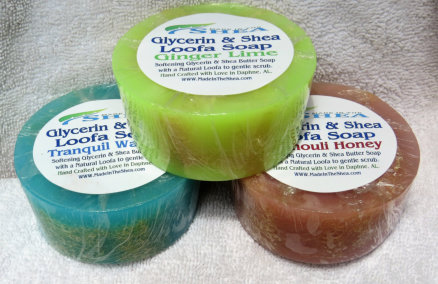 SELECT products available at:
Fairhope Health Foods 280 Eastern Shore Shopping Ctr, Fairhope, AL
Virginia's Health Foods, 3055A Dauphin St, Mobile, AL
The 'Made in the Shea' product line is intended for the following uses. The amount of time required for results varies by condition. Wrinkles requires four to six weeks. Itching is relieved immediately.
Dry skin
Skin rash
Skin peeling after tanning
Blemishes
Wrinkles
Itching Skin
Sunburn
Small skin wounds
Skin cracks
Tough or rough skin on feet
Cold weather
Frost bite
Stretch mark prevention
Natural Bug Repellant
Insect bites
Healthy skin
Muscle fatigue, aches, tension
Eczema
Before and after exercise
Dermatitis
Skin damage from heat (minor burns)
Lip Balm for dry lips
Hair Cream
"I saw your booth at the St. Simon's Craft Fair and bought 2 of your chapsticks. I LOVE them!! My lips have been so chapped lately and have tried many different chapsticks. I love how your product makes my lips feel soft and the flavors are amazing. Thank you!!!"
I am a breast cancer survivor and I want to use only organic products, I have tried a number of your products and love all of them. I especially like the Unscented Whipped Shea Body Butter that I used after and during radiation treatments that I purchased from you. this product brought my skin back very quickly after radiation.
Hi Ms. Swanson, I applaud your research and success in developing Made in the Shea products, I will slowly try your other products but right now I'm in love with whipped Shea butter, people ask me what I'm wearing as if its perfume, my favorite is ginger lime. What a nice find for my friends and I in a little shop while on vacation in Helen, GA October 2012. when we begin to run low we remembered the words of the cashier who said the website is on the bottom. Thanks and we love your last name its my nephews first name 🙂
Hi! I was introduced to your products at the NEACA Craft Show in Huntsville , AL . I LOVE your Whipped Shea Butter! I was just wondering if you know when you would be in the area next time? If not, I will be happily ordering from you online! 🙂 Thank you!
HI! First let me say I LOVE YOUR PRODUCTS! You were kind enough to make an exception and sell me some raw Shea butter (even bought it to me in Mobile)and I've the chance to compare to one I purchased before yours…NO COMPARISON! Your Shea makes my daily hair concoction feel amazing…like dealing with fluffy frosting :). I also purchased one of your soaps in juniper aloe and the microdermabrasion face polish…one word…HOOKED! Stay blessed!
Hi Deborah, I am sure you will not remember me. I purchased some Calendula Cream from you last year at a fair in Pensacola for women. I really like this product. Thank you, your products are super! Sincerely,